Susan Hilton College Station Real Estate
Realtor & Vice President of Sales of Bryan College Station Real Estate
Read my blog below
True Tales Category
January 14th, 2012 Categories: Agents - Realtors, Living Here, The Realtor's Life, True Tales
Time for a "tail" of a good deed…
Raylene Lewis is notorious around Century 21 Beal for finding stray and lost animals and rescuing them. Friday was just another example of this Realtor going above and beyond to help animals.
Raylene found a beautiful dog lost and in danger on Texas Ave near the College Station police station on Friday morning. The dog was very near being hit by a car so she stopped and picked up the dog. The dog had no collar so she took the scared dog to her vet at Wellborn Animal Clinic. The vet checked out the dog and found no microchip. (and, yes Raylene paid the vet bill)
Later in the day Raylene picked up the dog to try to find the owner. Through Craigslist the owner was found Saturday morning. The owner had lost the dog Friday morning and was desperately hunting. When owner and dog were matched up there was a great deal of tail wagging and tears.
THANK YOU Raylene Lewis for going above and beyond to help this dog and owner find each other.
Posted by Susan Hilton | Discussion: 1 Comment »
May 4th, 2011 Categories: True Tales
Holmes vs Beatty – Lawsuit over inheritance issues – (summary below -remember I am not giving legal advice!)
Thomas and Kathryn Holmes married 1972.  They amassed $10,000,000 in brokerage accounts and security certificates. Kathryn died and her will said her son from a previous marriage was the executor. Kathryn intended for her children to get her share of her estate.  Thomas died 9 months later (of a broken heart?). His son, Harry, from a previous marriage was the executor of Thomas' estate.
Looks like the kids of Kathryn would get half and the kids of Thomas would get the other half.   Not so!
Because the bank accounts were structured as JT TEN and JT WROS (joint tenancy) all the money went to the husband when Kathryn died. Then when Thomas died everything went to HIS kids.
Her will gave everything to her kids and his will gave everything to his kids but….
Do you think either Thomas or Kathryn understood that the money would go to only his kids? Probably not since each had a will leaving what they had to their kids BUT the Texas Supreme Court said too bad!  They said the law is the law and ignorance of the law is no excuse.
Thomas' kids got everything!!!
Now, go check your bank accounts. Check the bank accounts of your parents and make sure you talk with your attorney about this! This is a new ruling and your attorney may not even know about it yet.
Susan Hilton
Posted by Susan Hilton | Discussion: No Comments »
November 6th, 2010 Categories: Agents - Realtors, Family, True Tales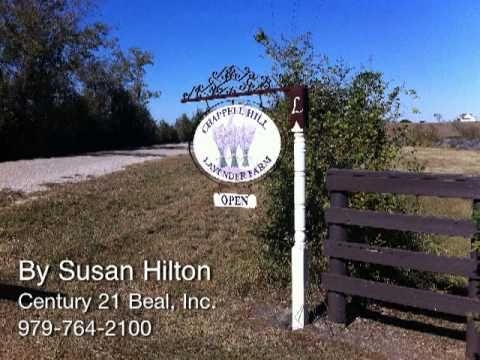 On the way back from Brenham posting another notice telling a homeowner the bank has foreclosed, my daughter and I saw a sign saying "Lavendar Farm near Chappell Hill.   Of course we had to stop!
We made a quick U-Turn and started down a side road.  After a few minutes we started to doubt the decision Read the rest of this entry »
Posted by Susan Hilton | Discussion: 1 Comment »
October 15th, 2010 Categories: Agents - Realtors, True Tales
Personalize funny videos and birthday
eCards
at JibJab!
Every once in a while you get something Read the rest of this entry »
Posted by Susan Hilton | Discussion: No Comments »
October 6th, 2010 Categories: Award News, Community Events, News, True Tales
Bryan & College Station – Your real estate agents at Century 21 Beal are learning again!
The real estate sales agents of Century 21 Beal are getting ready for the annual retreat where a few days are spent away from working "in" the real estate business and instead we will be working "on" our real estate business.
This year's retreat will have speakers and events covering the following topics:
Pricing your Brazos Valley Home using the Absorption Rate Analysis in our quickly changing real estate market
Farm and Ranch – how to better market our farm and ranch properties
Commercial Real Estate – how to market and sell commercial real estate in Bryan and College Station
Century 21 – online marketing on a national scale
Realtors Preparing for the Future – investments and retirement
Effectively Managing a work and home life
Tax planning for the real estate sakes agent and the real estate investor
So, know a real estate agent at Century 21? Know that your Century 21 Beal Realtor is the BEST trained real estate agent in town!
Susan Hilton
century 21 Beal
979-764-2100
Posted by Susan Hilton | Discussion: No Comments »