Susan Hilton College Station Real Estate
Realtor & Vice President of Sales of Bryan College Station Real Estate
Read my blog below
Pebble Creek Category
September 12th, 2010 Categories: Pebble Creek
Pebble Creek is College Station's Premiere Golf Course Developments. Click on the YouTube video below and enjoy a short drive from the entrance, past the golf course and down a street or two. Watch for the Aggie Game Day Flags too!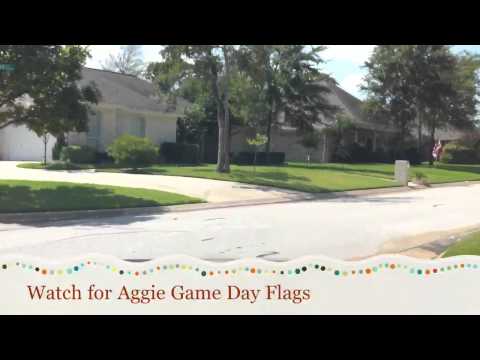 Read the rest of this entry »
Posted by Susan Hilton | Discussion: No Comments »
June 23rd, 2010 Categories: Buying, Pebble Creek
l
How much will the seller take?  Depends… How strong is your offer?
If you are interested in buying a home in the remarkable Pebble Creek subdivision of College Station, you are likely to be considering one of the largest factors in a real estate deal: the price.  If the listed price of your dream home is not quite in your range, there is always the possibility that the seller will take another offer. 
Posted by | Discussion: No Comments »
March 4th, 2010 Categories: Community Events, Pebble Creek
Pebble Creek Elementary School Carnival this Saturday. You don't want to miss it!
Join us this Saturday, March 6th from 11am to 4pm for the annual Pebble Creek Elementary Spring Carnival. Everyone is welcome – not just for Pebble Creek students! This year's carnival is a space theme!
We'll have plenty to do for the parents and the kids!
Games, including bounce houses and inflatables
Cast room, children's raffle, cake walk & more!
Silent auction – over $20,000 in merchandise
Class basket auction & class plate auction
Race car from Texas World Speedway
Food from great vendors like Outback, Dickey's, Ninfas, Spoons Yogurt & Buck's pizza
Tickets are on sale at the door day of the Pebble Creek carnival or in advance outside the school from 2:45 to 3:45 Thursday and Friday.
Come out and get LOST IN SPACE!
Susan Hilton – Realtor & Sales Trainer for Century 21 Beal, Inc.
#1 in Real Estate in Bryan and College Station Home Sales
Real Estate for Bryan College Station!
Call 979-764-2121 and hear information on ANY property for sale in the Brazos Valley.
Posted by Susan Hilton | Discussion: 3 Comments »
July 22nd, 2009 Categories: Community Events, Pebble Creek
Upcoming Events July 2009 Pebble Creek
GARAGE SALE
The annual Pebble Creek Garage Sale is being held Saturday, August 8th, and we would love to have you participate! There is a $15.00 participation fee that covers the rental of the parking lot at Pebble Creek Elementary School, the garage sale maps, and the ad that will be ran for one week in the Eagle newspaper. You can hold your sale at your home, or you can reserve a space in the parking lot at the school. If you would like to participate in the garage sale, please contact me at 690-0992 ext. 109, or email me at Erica_R@pebblecreek.org on or before Wednesday, July 29th.  
 
NATIONAL NIGHT OUT
National Night out is being held on Tuesday, October 6th. National Night Out is a crime prevention event designed to heighten crime and drug prevention awareness, while generating support for local anti-crime programs and strengthening neighborhood spirit. Many blocks in the Pebble Creek community hold cook-outs, or similar gatherings, for National Night Out, and we encourage Read the rest of this entry »
Posted by Susan Hilton | Discussion: 1 Comment »
September 26th, 2008 Categories: Pebble Creek
Last night I attended an
open house hosted by Clay Lee
(agent at Century 21 Beal) in Pebble Creek. This open house was to showcase a home designed by Benjamin Knox, built by Crowley Construction and marketed for sale by Clay Lee. The event was elegant, relaxing and well worth attending!
Clay is often using his contacts and real estate business to help others – especially the Brazos Food Bank.
If you are looking for a spacious home with a pool that is NOTHING like what you normally see available in Bryan/College Station – this is one to consider.
Posted by Susan Hilton | Discussion: No Comments »