Susan Hilton College Station Real Estate
Realtor & Vice President of Sales of Bryan College Station Real Estate
Read my blog below
Neighborhoods Category
October 19th, 2012 Categories: Buying, Neighborhoods
Homeownership comes with many benefits whether it is a home in Bryan or College Station or far away from Aggieland, and the least of which is that the home is yours! You are allowed to get a dog, or nine (unless you have deed restrictions…)! You can plant a garden, paint walls, change the décor, renovate, and do just about anything you would like with your new home. There are a number of other benefits. The community in which your home is located makes you feel more connected. You may join a neighborhood club or make friends with your neighbors at block parties. This gives you a sense of pride. The mortgage payments you will be making will slowly increase the amount of equity you have in your home. When you are renting a home, rent usually slowly increases over time. In a home, the normal, fixed rate mortgage locks in the amount of money you pay monthly for a set 30 years. This assures you stability. Your credit score should go up if you pay your mortgage on time. The stability that comes with owning a home allows you a sense of safety and consistency. You can stay in your home as long as you would like. There are currently tax write-offs that come with owning a home. The value of your home should also go up. Over the past 50 years, the value of homes has risen an average of five to six percent. Also, there may be tax free gain when you sell your home, meaning you pay no tax on the appreciation because you bought it.
These are just the tip of the iceberg of benefits that Read the rest of this entry »
Posted by Susan Hilton | Discussion: 8 Comments »
July 30th, 2012 Categories: Pebble Creek, Schools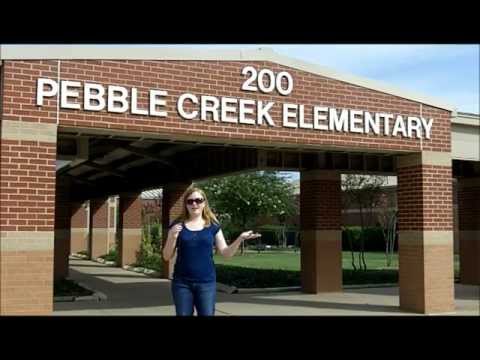 If you don't want to watch the video above about Pebble Creek in College Station, Tx, below is just a little info too!
Subdivision Name : Pebble Creek
City:  College Station
Zip Code: 77845
HOA link: http://www.pcoa.info/
Schools :
Elementary (K-4)              Pebble Creek Elementary School            764-5595
Middle School (5-6)         Oakwood Intermediate School               764-5530
Jr. High School (7-8)       A&M Consolidated Middle School         764-5575
High School (9-12)            A&M Consolidated High School             764-5500
Parks: Pebble Creek Elementary Park, Research Park, Lick Creek Park
Google maps link: https://maps.google.com/maps?hl=en
Close to shopping – HEB, Lowes, multiple banks, Fast Food (Whataburger, Chick-fil-A, McDonalds). St. Joe's ER. Near Rock Prairie Road and the developing new Scott & White Hospital.
When was it developed: December, 1990
Deed restrictions: http://www.pcoa.info/resources/Main+Deed+Restrictions.pdf   "Deed Restrictions cover all aspects of lot ownership in Pebble Creek and range from required construction standards to land use provisions. The restrictions provide an element of security to those who choose to Read the rest of this entry »
Posted by Susan Hilton | Discussion: 17 Comments »
July 25th, 2012 Categories: Neighborhoods
If you own a home in Texas or the Brazos Valley there is about a 20% chance that you live under a Homeowners Association, better known as HOAs. If your lifestyle doesn't match that of the HOA you often feel like a victim. In the words of David Dobs, a homeowner in North Atlanta, "It's like living under communism — someone gets to dictate every possible thing you do."
Dobs' bitterness, however, was sparked by something of a personal matter. The HOA in their Atlanta suburb denied their request to install Solar Panels on the roof of their house. Neighborhood officials apparently thought the panels would look "out of place" and "might lower home values" in the community.
This particular community mandated everything from grass height to the coloring of roof tiles: a Homeowners Associations that seemed to value conformity over ecological awareness. Who would've thought?
For those who don't understand the power of Homeowners Associations, it might be helpful Read the rest of this entry »
Posted by Susan Hilton | Discussion: No Comments »
June 19th, 2012 Categories: Neighborhoods, Parks & Recreation
Homeowners Associations (HOAs) in the Brazos Valley are neighborhoods that have set certain rules, fees and conditions for homeowners. The lack of a regulation policy is primarily due to the independence of the Homeowners Association from the state of Texas. Unlike Florida or California, Texas law has very little regulation regarding Homeowners Associations throughout the state. This is changing, however, thanks to recent bills that were passed through the Texas Legislature meant to monitor the implementation of HOAs.
It is always possible as a Texan homeowner to live in a neighborhood that was not developed under the conditions of an HOA, or perhaps outside of residential living all together. Today, however, over 4.5 million Texans live in residential areas that are affected by or under the influence of Homeowners Associations. That is almost 20% of all Texan properties have been under the power of generally unregulated entities until this point. The recently passed bills through Texas Legislature have changed how HOAs will be governed, including their powers over particular penalties and foreclosures, and provide additional rights to homeowners concerning the use of their property.
Homeowners Associations are set up by real estate developers as a means to market, manage and sell homes in a residential area. They are often viewed positively for their ability to provide neighbors with shared values and Read the rest of this entry »
Posted by Susan Hilton | Discussion: 18 Comments »
June 12th, 2012 Categories: Community Events, Neighborhoods
In the town of College Station, Texas lays a dormant and remote neighborhood, entirely destroyed. Fifty-two acres of buildings and concrete crumbling in a dusted ruin, rusted vehicles flipped and crushed, and piles of rubble stacked stories high characterize this site: an area known to many as the 'Disaster City'. Imagine College Station real estate destroyed!
While it might look as though merciless calamity has struck this region of the otherwise developed Aggieland, Disaster City is nothing more than a façade: a set no more harmful than scenes designed for Hollywood. And in many ways, that is exactly what this set up is. There are actors, makeup artists, fake blood and explosions. The difference is that for the men & women who arrive at the scene, disaster city is very, very real.
Disaster City is a training setting for Firefighters, law enforcement and various other types of emergency personnel. Opened in 1997, Disaster City was a brain-baby of Texas A&M Professor G. Kemble Bennett. After the terrorist attacks in Oklahoma in 1993 and the bombing in the garage of the World Trade Centers in 1995, Bennett realized professional rescue personnel needed an appropriate setting to develop their skills and enhance Read the rest of this entry »
Posted by Susan Hilton | Discussion: 8 Comments »